Are you looking for ways to clean up your cabinets and maximize your kitchen space? Take a look at these nine hacks that will help you transform your kitchen. You don't have to break the bank to organize your kitchen with style, and there are plenty of ways to recycle household items with creativity. Let's get hacking!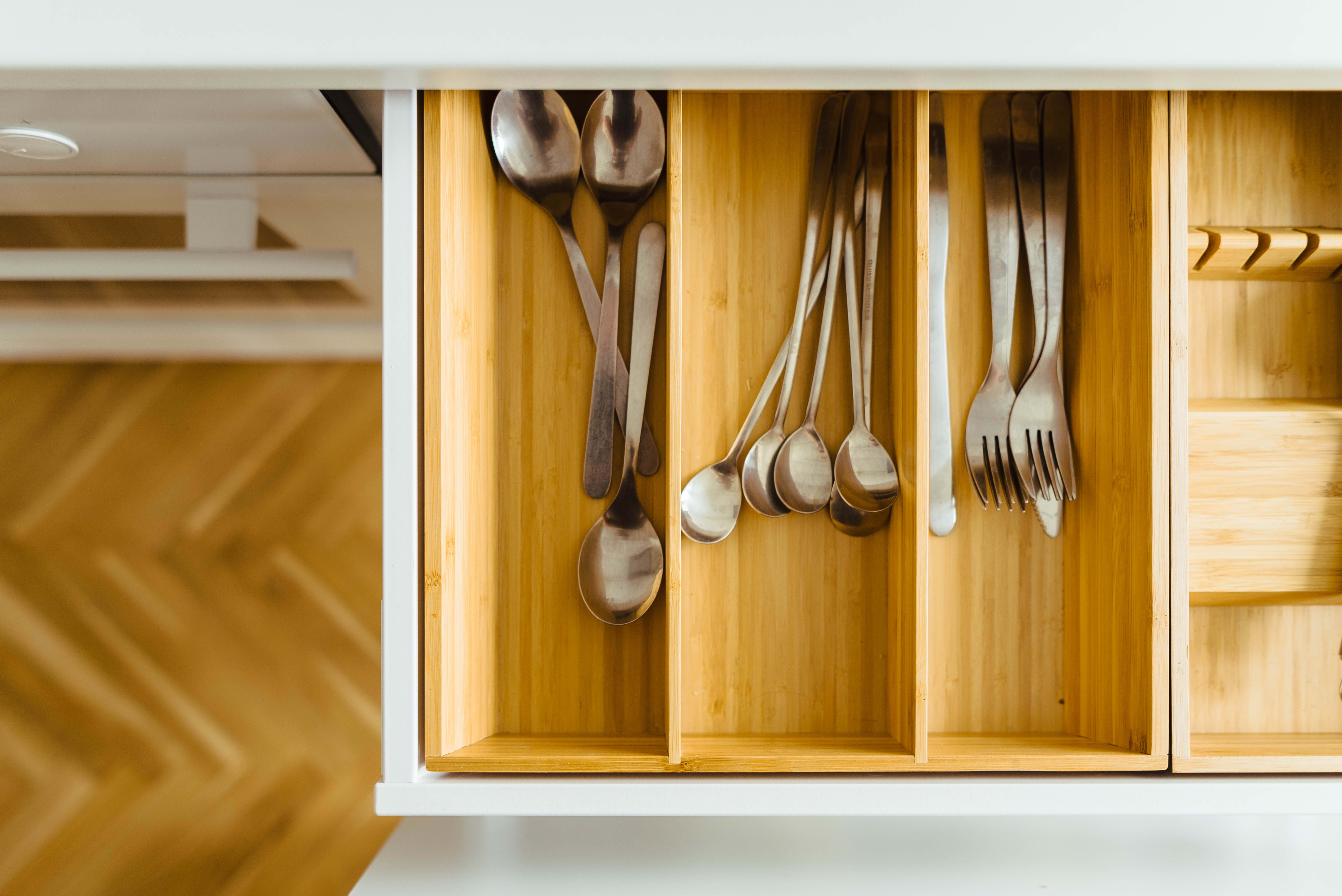 If you're tired of having loose forks and spoons laying around, purchase a drawer organizer. It will help you keep your various utensils organized in their own compartments.
Instead of throwing your bigger cooking utensils in a drawer, pull out an old mason jar or two, and stash your tools there. If you don't have any, repurposing an old coffee can be a great alternative!
Lacking cabinet space to store your sauces? Hang a rack on the side of your fridge or on the inside of a pantry door to hold your peanut butter, soy sauce, vinegar, and more!
Grab a pan organizer to store your pots and pans sideways in your deeper cabinets. You can even add your cutting boards and baking sheets into the mix.
Use old file or magazine holders to stash foils or kitchen wraps. Alternatively, you can pop them in your freezer to use as organizational shelving.
Don't know where to store your extra sink gadgets? Take some command hooks and use them to hang a small wire basket under the sink. Now your sponges and scrubbers have a neat home of their own!
Stop storing your produce on the countertops. Instead, line onf o your deeper drawers with small storage bins (like cubbies) and toss in your non-refrigerated fruits and veggies.
Remember those plastic, clear organizers you used to keep on your desk? Well, they can be repurposed for additional fridge shelving. The clear plastic allows you to easily check inventory and keep everything squeaky clean!
Hang a tiered wire basket or wire rack to keep your apples and oranges off the countertops. They're also great for storing onions, garlic, and more!
Of course, there are more than just these nine ways to take advantage of your Sequoia kitchen. If you have creative kitchen hacks you'd like to share with us, please tag us on social media @ElevatetoSequoia. We'd love to see your ideas!