Make a Schedule and Stick to It
It's easy to get distracted when working from home. There's laundry to do, things to clean, shows to catch up on…so many things to occupy your time besides work. Developing a schedule will help to keep you on track with what needs to be done and can be beneficial for your mental health. Start by creating a routine and sticking with it. This can be as simple as swapping out your sweats for pants, enjoying a fresh cup of coffee to wake you up in the morning, and mapping out small breaks to stretch and give your eyes a rest from staring at your computer screen. Another tip is to develop a schedule that fits with your workload. To stay organized, use a planner or email calendar and make a list of what you need to finish each day, creating time blocks to ensure maximum efficiency.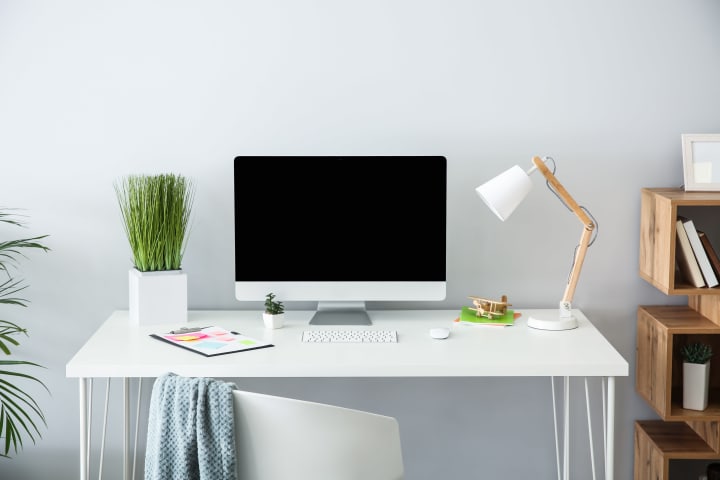 Choose a Dedicated Workspace 
Whether you have a designated office, room, or table to work on, it is important to establish a workspace that fits your needs and makes you feel motivated to be productive. Choose a place that best eliminates distractions, can keep you focused, and has optimal lighting. Being near a window or well lit room can keep you more energized and happy during your work day. Once you've selected your space, it'll be important to stock up on essentials that will make it feel like a true workspace. A wireless mouse, notebook, pens, and something to make you smile, like a plant, framed photo, candle, etc. are some things you may need to be successful in your new workspace.
Listen to a Playlist or Podcast
In a normal office setting, there is usually background noise, whether it's music, the clicking of keyboards, or ringing of phones. The transition to silence or new background noise can be difficult to get used to. Playing your favorite music or podcasts can help create a similar setting to what you're used to. It also brings some fun and positivity that we could all use to keep us going! Pro tip: invest in a good pair of noise canceling headphones to fully immerse yourself!
Check out these fun playlists below, or create your own!
https://www.refinery29.com/en-us/2020/03/9580184/work-from-home-productivity-playlists
Take Breaks 
While there are major benefits of working from home--no commute, at-home lunches, and wearing comfy clothes, to name a few--the normal office rituals are definitely missed. Regular coffee trips to the break room, going out to lunch on occasion, and simply leaving the house for the day are things we're looking forward to doing again in the future. Our normal work routines have changed and the new work from home lifestyle can take some getting used to. By taking the breaks that you normally would in the office, you can avoid feeling completely uprooted. Consider scheduling small breaks throughout the day to allow you to refocus and take care of yourself. Your mental health is most important, so taking five minutes to step away from your computer, refill your water, and breathe is totally okay. Some other tips include taking a stretch break, getting some fresh air, or grabbing a healthy snack. Don't forget to take care of yourself!

Invest in Good Equipment
Now that you are working from home, you probably don't have your normal office setup or equipment that you're used to working with. This can be a difficult adjustment, so providing yourself the proper tools can make for a more efficient and enjoyable workday. Investing in a great desk chair can do wonders for your body; it can help prevent slouching and give you that extra boost you need to complete whatever project you're working on. Another great investment is an extra monitor or two. Many of us are used to working on larger computer screens, so our eyes may be feeling strained while adjusting to a smaller laptop screen. If you don't have the space for an extra monitor, consider investing in a pair of blue light glasses for anti-glare protection and to block out harmful light from your eyes.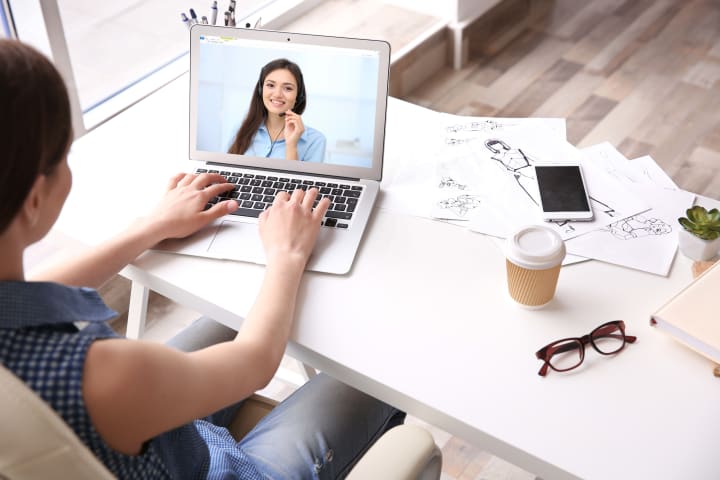 Stay Connected
Working from home can feel especially lonely if you're used to working in an office environment. Communication is key, and it's important to stay connected with your coworkers. At Sequoia, we have weekly Company Huddles to check in with everyone and host virtual Coffee Happy Hours to socialize with our team members and bring some fun into working virtually. Video meetings and simple phone calls can also do the trick, but the most important thing is to stay connected, however you see fit. Human-to-human interaction is important, even if virtual, and can help boost anyone's mood, making them feel less isolated in a time of uncertainty. Be sure to check in on your coworkers and friends!