National Hispanic Heritage Month is observed from September 15th - October 15th by celebrating the history, culture, and contributions of Americans whose ancestors descended from Mexico, Spain, The Caribbean, and South and Central America. 
At Sequoia, we are proud to embrace, share, celebrate, and educate our team members on this holiday. Our team members let us know how they celebrate. They shared their family traditions during Hispanic Heritage Month with us, and now, we are so excited to share them with you!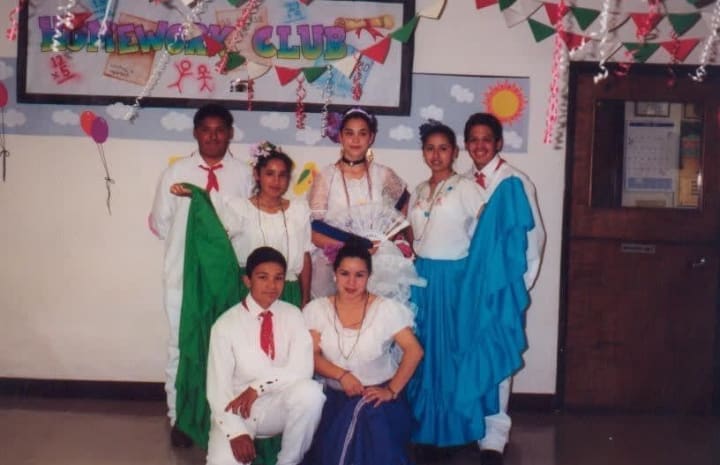 Rosie Escalante (pictured in the front row on the right), Community Manager, Sandpiper Village, Vacaville, CA 
Pictured with Rosie are: high school ballet folkoric dance team 
"I gather with my family and cook some traditional Mexican dishes like "pozole" or "enchiladas" on the weekend around September 16th, which is Mexican Independence day. We also like to play Mexican music like "cumbia" and "merengue" to sing and dance to. 
In our Mexican heritage, we like to see performances of dancers of ballet folklorico (Mexican danza), be around our family, let the little ones break a "piñata", eat some our our favorite Mexican dishes, and end the night dancing to Latin music like "cumbia," "merengue" or "banda".
When I was in High School I danced ballet folklorico (Mexican danza), to share this Mexican tradition with the entire school. I would do dance performances for Cinco de Mayo and Mexican Independence Day."
Ramon Macias, Assistant Community Manager The Vintage at South Meadows, Reno, Nevada  
Ramon Pictured with his family 
"We gather the weekend closest to Sep 15 (Mexican Independence Day) and bring Mexican dishes, tequila tastings and Piñatas for the kiddos." 
Lloni Hernandez Mendez, Service Technician II, Paragon at Old Town, Monrovia, CA
Lloni's two family members pictured 
"We dress in some typical clothes, prepare a favorite dish to eat, dance at home, and have a bit of Sangria."  
Ivett Cisneros, Leasing Consultant, Centro Apartment Homes, Hillsboro, OR  
"My family celebrates Hispanic Heritage month by getting together, making tons of food, and watching our Queen on the screen, Selena! Cumbia has always been very important in my family, it is a specific kind of dance from central Mexico! Going to Latin festivals to watch Danza and Aztec dancers is always inspiring and worth the trip!" 
Sandra Johanna Galicia, Pool Attendant, Valley Ridge Apartments, Martinez, CA
"We don't celebrate, but live within our own heritage everyday. My parents have always told me of stories from their childhood throughout my life. They have expressed their hardships, being children in their respective countries. Being the first generation born into the US, they have adapted to USA customs, opposed to their own. As a necessity, however, they never let me forget how amazing the food was. And how no matter what, family comes first. don't celebrate, We live it. Each and every day they are alive and well is another day to celebrate. I think one of the most unique traditions we have, is how we prepare our food. 
However, because of last fall, we traveled to Mexico during the day of the dead. My daughter now wants to put up a Ofrenda (An altar to celebrate the lives of family who have passed) And this will be the first year we have done anything of the sort!"