Wine and beer tastings look a lot different than they did a couple of months ago. Since it is much harder to visit a winery or brewing now, we have compiled a guide to help you host the ultimate virtual tasting experience from the comfort of your Sequoia home. Gather your friends, your favorite adult beverages, and your computer or phone and get ready for an afternoon or evening of virtual fun!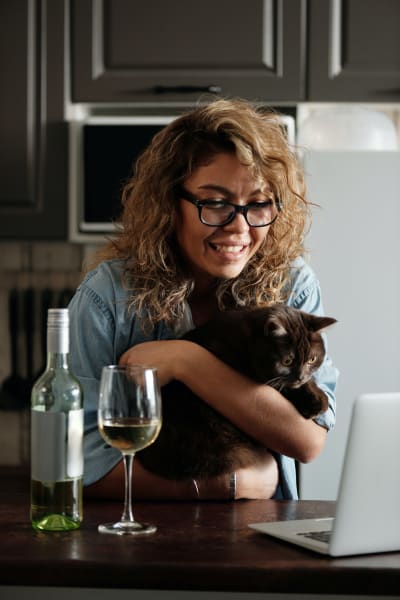 Wine Tasting
Pick out a Variation of White and Red Wine 
Normally when you go to a winery, there are special tasting menus to choose from that highlight different variations of red, white, or a mixture of both, wines. The best part about hosting a tasting of your own is that you get to choose which wines you will be trying! You'll want to set a budget between you and your friends, and choose a place that is likely to fit your budget.
Now it's your time to choose the wines. Although sticking with your favorites is a convenient way to go, wine tastings are about experiencing new things that you may have never tried before. 
Snacks  
Once you have chosen your wine list, it's time to focus on what is arguably the most important part of the tasting: snacks! Nothing pairs better with wine than a nice cheese, meat, and bread selection, also known as Charcuterie. Although these snacks can alter the taste of the wines, there are so many different snack variations that pair perfectly: 
Cabernet Sauvignon - pairs well with aged cheddar, gorgonzola, and walnuts 

Pinot Noir - pairs well with gruyere and walnuts

Sauvignon Blanc - pairs well with goat cheese and pine nuts

Prosecco - pairs well with asiago 

Chardonnay - pairs well with brie, havarti, and almonds 
Once you have your snack selection, it's time to put it all together. To make the wine tasting as authentic as possible, lay out your snacks in a fancy way on a nice cutting board or plate. You can design it however you like!
During the Tasting
Look at your wine and describe the color.

Next, move your glass in a circular motion, then stop and smell the wine. Describe the scents you smell.

Finally, slowly sip the wine and describe what you taste.
Beer Tasting
Pick Out a Variation Beer 
Hosting a beer tasting is very similar to wine in that you should choose a variation of beer and experiment with those you may have never tried before. Getting a variation of both light, dark, and in-between beer can make for a perfect beer tasting, just like at your favorite brewery. During the tasting you will want to start with the lighter beer, like a pilsner or blonde, and then slowly move into the darker variations, like an IPA, porter, or stout. But the best part about hosting a tasting is that you can choose what you want!
Snacks
Now let's talk about snacks. Beer can be very filling, but with a tasting you get to try little samples of each one. Having something salty or sweet in between tastings can help reset your palette for the next beer. Snacks like pretzels, nuts, popcorn, and sliced meats are all great ideas when it comes to sprucing up your beer tasting. 
Pilsner or Wheat Beer - pairs well with mozzarella, apples, and tomatoes 

Pale Ale - pairs well with goat cheese or chips and guacamole

Sour Beer - pairs well with blue cheese, fresh fruit, and cured meats

Amber Ale - pairs well with gouda, cheddar, or caramel popcorn 

IPA - pairs well with something spicy like jalapeno poppers, potato chips, or deli meats

Porters and Stouts - pairs well with heavy, strong cheeses, or dessert, like chocolate cupcakes
During the Tasting
Pour your beer into a desired glass, preferably one that's cold and frosted. You'll want to stay away from drinking it out of a can or bottle so you can analyze the colors and carbonation.

Smell your beer and take in the aromas. This is great to discuss with your group as some might smell something different than others.

Next, take a sip and savor the flavors that hit your palate. Enjoy!


*Must be 21 years or over to participate. Please drink responsibly.